CLASS 3-8 COMMERCIAL VEHICLE SHOCK ABSORBERS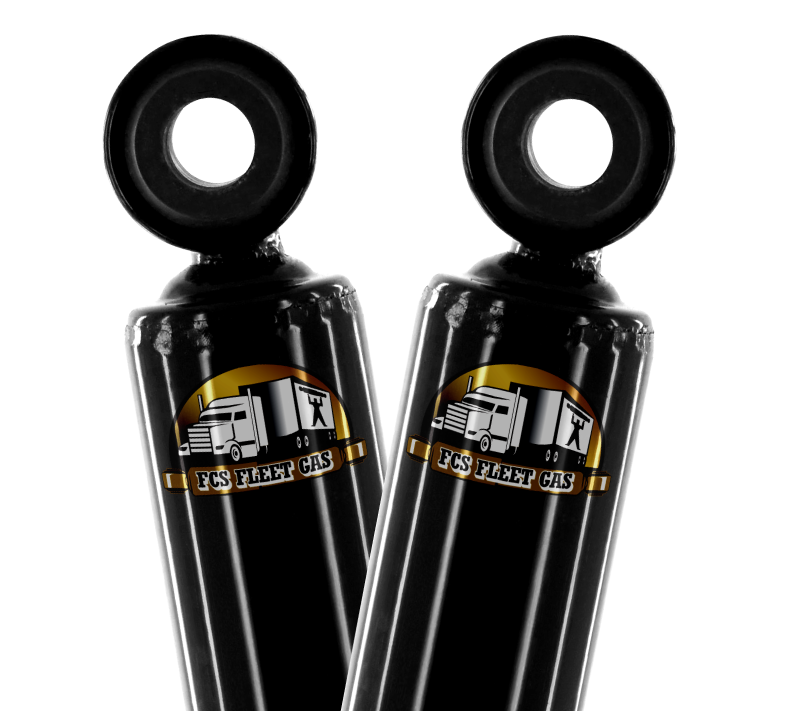 COVERAGE FOR OVER 4,800 OEM PART NUMBERS
WORLD LEADING
FCS is a World Leading Manufacturer of Heavy Duty & Light Vehicle Ride Control Products


#1 North American Aftermarket Supplier in light vehicle strut assemblies (over 5 million units annually)

Worldwide footprint in commercial vehicle supply

Global Supplier in over 40 countries

IATF16949 & ISO14001 Certified Manufacturer

Over 600,000 sq. ft. of dedicated North American distribution space available to serve you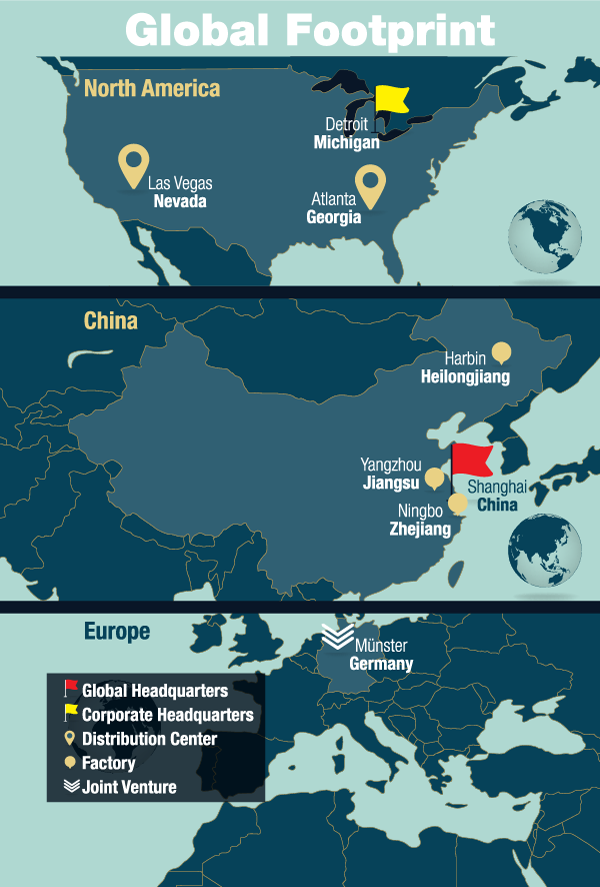 PRODUCTS
Heavy Duty Ride Control Products

Cab Shocks
Heavy Duty Gas Charged Shocks that exceeds OE in comfort and reduction in cab vibration

Truck, Trailer & Bus Shocks
Heavy Duty Gas Charged Shocks with improved dampening and sealing. With robotic arc welded eye-rings for superior durability

Steering Stabilizers
Reduces steering issues and wear on front end parts and tires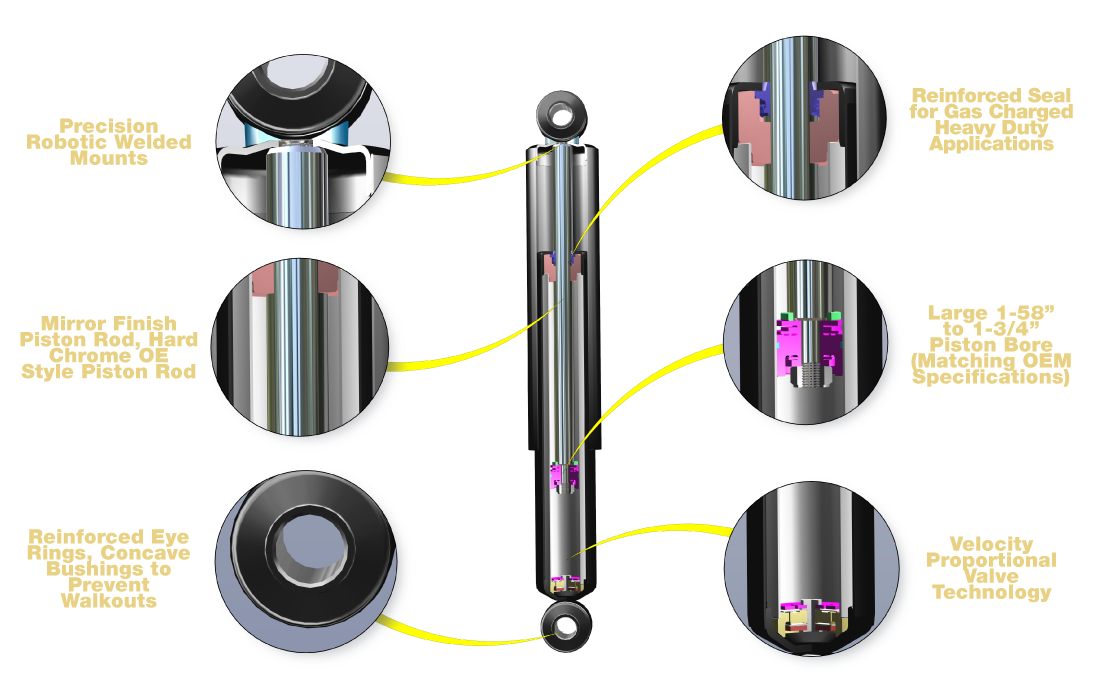 ADVANTAGES
Nitrogen Gas Charged Shocks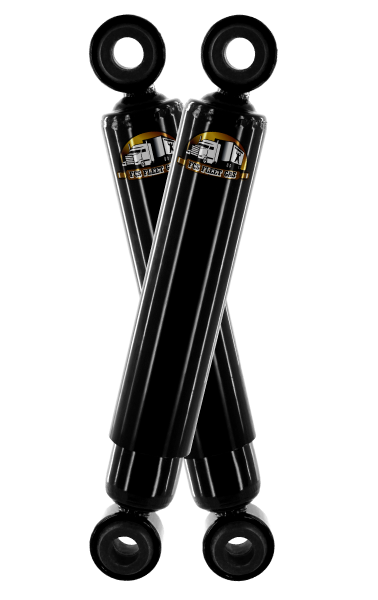 Gas-charged shocks add nitrogen to the original hydraulic shock design to enhance performance for a more responsive, smoother ride. Inside the shock, a low-pressure charge of nitrogen gas is added in the chamber above the hydraulic oil to minimize aeration of hydraulic fluid. This helps significantly reduce fade, minimize vibrations, and extend service life.

Gas charging minimizes hydraulic fluid aeration, which causes foaming. Aeration negatively impacts ride performance. The addition of nitrogen gas to the shock assembly compresses air bubbles in the hydraulic fluid and prevents the oil and air from mixing to create foam. By reducing aeration, the gas-charged shock is more responsive and performs better by providing more consistent dampening.
FEATURES & BENEFITS
Commercial Gas Shock
Absorbers

Nitrogen gas charged shock minimizes hydraulic fluid aeration for a more responsive performance

Specially designed concave bushings keep the bushing in place and prevents bushing walk out

Precision robotic welded eye-rings provide superior durability

Reinforced seal for heavy duty applications and design for a gas charged shock provide long dependable performance even under the worst temperature condition

Mirror-finished, hard-chrome OE style piston rod provides superior corrosion resistance and leak free sealing

Premium OE Eneos oil ensures a great seal, long-life and consistent dampening over wide range of temperatures

Reinforced eye-rings designed to handle even the worst road conditions

Velocity proportional valving technology that provides proportional damping based on the speed of vehicle-to-road impact
FCS QUALITY COMMITMENT
All FCS HD Nitrogen Gas-Charged shock absorbers are engineered to meet and exceed O.E.M. quality using the latest state of the art manufacturing processes. All components and valving are specifically designed and calibrated match form, fit and function for vehicle application and provide an improved OE ride and feel. Additionally, each unit is compression and durability tested to ensure they meet or exceed OE specifications.

Best value choice in nitrogen gas shocks for improving OE performance

Engineered & tested to meet or exceed OE specifications

Comprehensive market coverage (including class 4 thru 8 vehicles)

A proven value alternative to OE replacement parts

Ideal balance of comfort, control, and performance for any driving condition
BEST RIDE CONTROL SOLUTION

Full line gas charge shocks for commercial vehicles available for immediate shipment!

Premium OE quality backed by extensive in-house testing and IATF16949 & ISO14001 certifications

World leading prime manufacturer of struts and shocks

Committed to supporting your success

Premium performance maximizes sale opportunities and profitability